Curtains are often referred to as the "jewelry of the room," and rightly so. They not only add a finishing touch to the decor of a room, but they also contribute significantly to the overall ambiance and mood. One of the most popular choices when it comes to curtains is voile curtains. These sheer curtains add a touch of elegance and charm to any setting, making them a perfect choice for both traditional and contemporary interiors. However, choosing the perfect voile curtains can be a daunting task, given the plethora of options available in the market.
From color and design to fabric and patterns, there are a number of factors to consider while selecting voile curtains for your home. That's why we've put together this ultimate guide to help you make an informed decision. In this article,  you will find tips and inspirations that will assist you in choosing the perfect voile curtains to complement your decor style. Whether you want to create a romantic and dreamy atmosphere in your bedroom. 
Why voile curtains?
Voile curtains are a popular choice for many homeowners looking to enhance the look and feel of their living space. They are lightweight, delicate, and allow natural light to filter into the room, creating a warm and inviting atmosphere. Voile curtains can add an elegant touch to any décor with their sheer fabric that softly drapes over windows. 
Perfect voile curtains can transform any room, making it feel more spacious and airy, and they can also provide privacy without the need to completely block out natural light. Ultimately, voile curtains offer a versatile solution for any home decorating project, blending seamlessly with different styles and colour schemes. 
So, if you are looking for the perfect curtains that combine privacy and elegance, voile curtains are definitely worth considering. 
Things to consider when choosing the right voile curtains for your home
When it comes to decorating your home, choosing the perfect voile curtains can add an elegant touch to any room. However, with so many options available, it can be overwhelming to decide which curtains are right for you. With the right voile curtains, you can create a beautiful and inviting ambiance in any space of your home. Whether you prefer a sheer, delicate texture or something with more opacity for privacy, taking the time to consider these factors will help you choose the perfect voile curtains to enhance the overall aesthetic of your room.  There are several factors to consider when making your decision which are;
1. Consider the size and shape of the window:
This is important because different windows require different curtain styles. For instance, if you have a large window, consider installing longer and wider voile curtains to create an illusion of grandeur and elegance. on the other hand, for a smaller window, go for a shorter and narrower voile curtain that fits the window perfectly. 
2. Consider the light and privacy needs
Voile curtains are sheer, lightweight curtains that allow natural light to flow through while maintaining privacy. However, the level of privacy you get from voile curtains depends on the density of the fabric. If you want complete privacy, consider choosing a voile curtain with a higher thread count or layered with a heavier, more opaque curtain.  
3. Consider the decorative style you are aiming for
When choosing voile curtains, consider the purpose of the room. For example, If you want to add visual warmth and still maintain natural lights in the living or workspace, choose voile curtains that are slightly denser than others. 
4. Consider the hanging options available
It's important to evaluate your needs before making a purchase to ensure that the voile curtains you choose meet your hanging potential and requirements while complementing your home decor.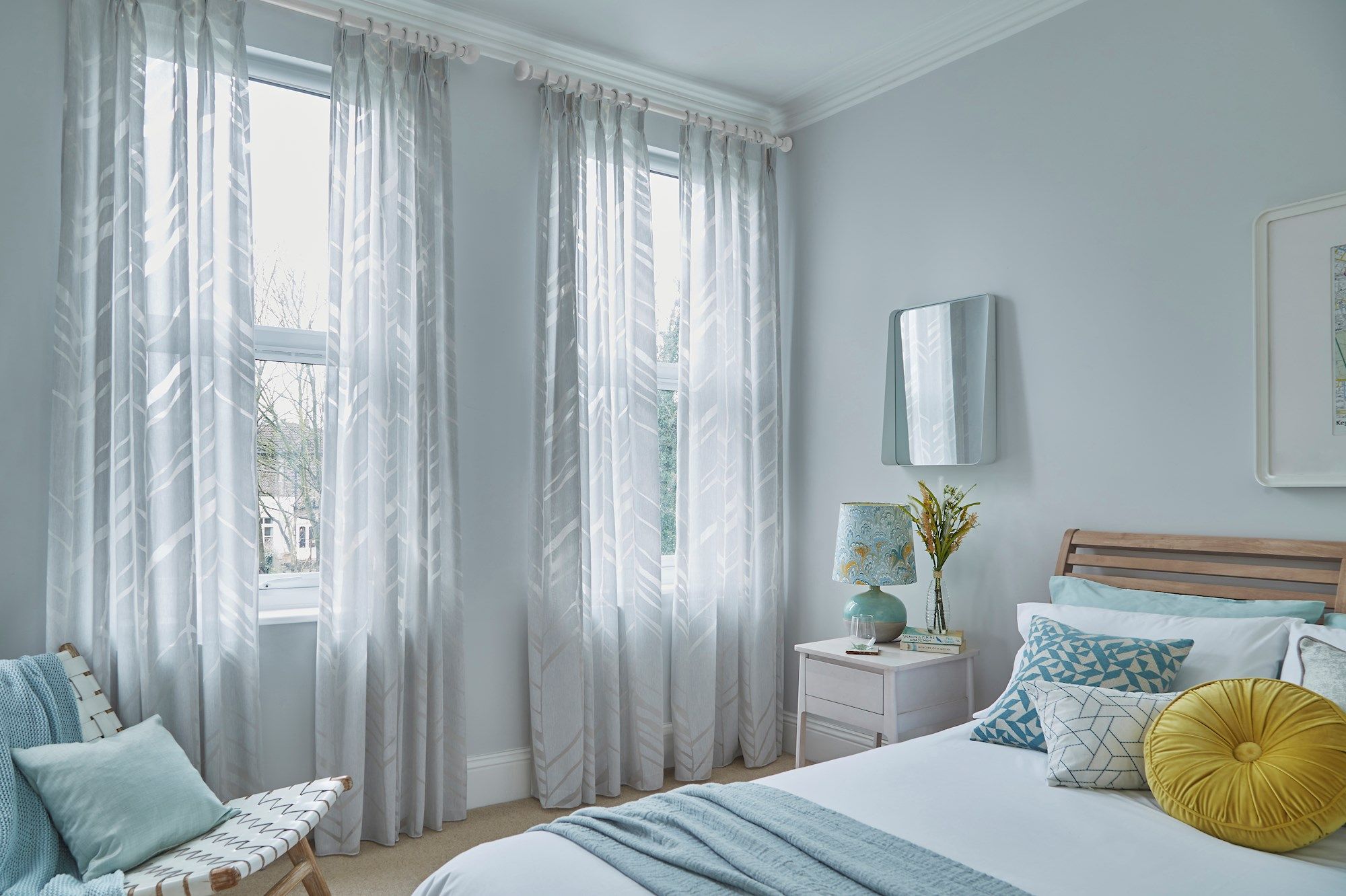 5. Consider the maintenance and cleaning requirements
It's important to also consider the care requirements. Some curtains may require more maintenance than others, and understanding these requirements can help you make an informed decision that's suited to your lifestyle.  
6
. Choose the Right Fabric
Some curtains may require ironing or steaming to maintain their crisp and neat appearance, this is based on the fabric type used in making them. By taking the time to understand the fabric requirements of the curtains you choose, you can ensure that they look their best for years to come, making them the perfect voile curtains for your home. 
7. Select the right design for your room
Every room has a unique ambiance that can be enhanced with the right selection of curtains. With voile curtains, you can experiment with different styles to create the ambiance you desire. Consider the overall aesthetic of the room and choose voile curtains that complement the existing interior design. 
8. Consider Optimal Length
Your curtain length is a priority when choosing a perfect voile curtain for your home, you don't want a longer window with an obviously short curtain. 
9. Consider Matching Accessories
You want the curtains to blend in seamlessly with the rest of your décor so that they don't stick out in a negative way. For example, if you have a room with beige walls and brown furniture, it may be best to choose voile curtains in a complementary cream or natural tone rather than a bright, contrasting color.  
10. Consider professional installation options
some voile curtains can be tricky to install, especially those with intricate designs or patterns. Professional installers will have the necessary tools and expertise to ensure that your curtains are put up securely and with minimal damage to your walls and window frames.  
Inspiration for choosing voile curtains
When it comes to creating a warm and cozy atmosphere in your home, curtains are an essential element to consider. Voile curtains, in particular, can be a great addition to any room, providing a light and airy feel while still maintaining privacy. By hanging the perfect voile curtains, you can add a level of elegance and sophistication to your home. But how do you choose the right voile curtains for your space? It can be overwhelming with so many options available in terms of style, color, and texture. 
Creative Ways to Use Voile Curtains in Your Interior Design
Perfect voile curtains are a great addition to any interior design, not only for their aesthetic value but also for their functionality. They are versatile and can be used in a variety of creative ways to enhance the overall look and feel of any space:
One way to use voile curtains is to give a layered effect when combined with heavier curtains. This can create a visual texture and add depth to any room. 

Another way to use voile curtains is to create a canopy bed that not only adds a romantic touch to a bedroom but also provides privacy. 

You can also use voile curtains to create a makeshift room divider in studio apartments or open-concept spaces, providing a temporary sense of privacy. 

Lastly, voile curtains can be used in unconventional ways such as hanging them on the ceiling to create a dreamy ambiance or using them as a backdrop for a photoshoot. 
The possibilities are endless with perfect voile curtains, so be creative and have fun incorporating them into your interior design. 
Conclusion
In conclusion, choosing the perfect voile curtains for your home can be a daunting task, but it doesn't have to be. By following these simple tips and considering the various inspirations available, you can find the perfect voile curtains to complement your space and suit your needs. Whether you're looking for privacy, light filtration, or simply a stylish accent to your décor, voile curtains provide a versatile and elegant option that can enhance the overall look and feel of any room. So why not explore your options and discover the perfect voile curtains for your home today?