If you're in the market for a new oven, you may have noticed that there are a variety of different models available with various features. One feature you may not have considered, but which can make a significant difference in your cooking experience, is a side-opening door. Ovens with side-opening doors provide several benefits over traditional models, including easier accessibility for those with mobility issues or limited counter space. However, with so many different options available, it can be challenging to determine which oven with a side-opening door is right for you. That's why we've put together a detailed review of the top ovens with side-opening doors on the market.
We'll examine the various features that each model offers, including cooking capacity, temperature range, and overall build quality. Additionally, we'll look at customer reviews and ratings to give you an idea of what other people think of each oven. By the end of this review, you'll have all the information you need to make an informed decision about which oven to go for.
Features and benefits of ovens with side-opening doors
Ovens with side-opening doors have become increasingly popular due to their enhanced accessibility and convenience. These ovens stand out from traditional front-opening models due to their unique door design that opens from the side, allowing easy and safe access to the oven space without the need to lean over the hot door. This feature proves particularly useful for those who have difficulty bending down or have mobility issues.
Also, side-opening doors offer greater convenience, making it possible to remove dishes and heavy trays without having to lift them over a large door. Overall, ovens with side-opening doors provide a more comfortable cooking experience with substantial benefits and ensure a more comfortable, reliable and user-friendly interaction. Here's a summary of the advantages:
Solving Kitchen Space Issues

Solution for Increased Accessibility

Increased safety

Easy access to the interior

Enhanced ergonomics

Improved usability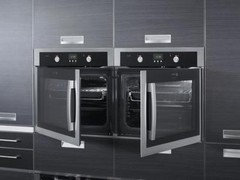 Types of materials used to construct side-opening ovens
When it comes to ovens with side-opening doors, the materials used in their construction play a vital role in their performance and durability. Two types of materials commonly used in these ovens are stainless steel and tempered glass. 
1. Stainless steel 
This is known for its durability and resistance to corrosion, making it a popular choice. It is also highly heat-resistant and helps to distribute heat evenly throughout the oven. 
2. Tempered glass
On the other hand, is a more lightweight option that provides excellent visibility into the oven. It is also easy to clean and resistant to high temperatures. While both materials have their advantages, it's important to choose an oven that aligns with your needs and preferences in terms of cooking style and maintenance requirements. 
Tips for safety when using ovens with side-opening doors
Ovens with side-opening doors have become increasingly popular in recent years, offering users more convenience and accessibility when cooking. While these ovens have many benefits, safety should always be a top priority when using them. Here are three tips to keep in mind when using ovens with side-opening doors to ensure your safety:
1. Keep a safe distance: 
When loading or unloading food from an oven with a side-opening door, be sure to keep a safe distance from the oven. The door may swing open suddenly or unexpectedly, causing hot food or steam to come out, which can result in burns or injuries.
2. Use oven mitts: 
When handling hot dishes or trays, be sure to use oven mitts. The side-opening door design makes it easier to access food inside the oven, but it also increases the risk of burns or injuries when handling hot items.
3. Keep children and pets away:
As with any oven, it's important to keep children and pets away from ovens with side-opening doors while they are in use. The side opening design may be more tempting for curious little ones, but the hot surfaces and potential for injury make it a safety hazard.
Maintenance tips for an oven with a side-opening door
Ovens with side-opening doors are becoming increasingly popular in modern kitchens due to their stylish and innovative design. However, it is essential to know how to properly maintain this type of oven to prolong its lifespan and ensure efficiency. Here are four maintenance tips for an oven with a side-opening door:
Firstly, clean the door gasket frequently to ensure a tight seal and eliminate energy waste. 

Secondly, use non-abrasive cleaners and gentle cleaning tools to avoid scratching the oven's glass surface. 

Thirdly, regularly clean the oven's interior to remove any build-up or residue that may affect its cooking performance. 

Lastly, when opening or closing the oven door, avoid applying too much force to prevent bending or damaging the hinges. 
By following these maintenance tips, owners of ovens with side-opening doors can ensure their appliance is in optimal condition and enjoy many years of reliable service. 
Exploring 3 of the Best Ovens with Side Opening Doors
If you're looking for a new oven and prefer easy access to the oven's cavity, ovens with side-opening doors may be worth considering. In this detailed review, we will explore 3 of the best ovens on the market that come with this feature. Side-opening doors are especially handy for people who find it difficult or uncomfortable to reach over a hot oven door, or those with other peculiar issues.
The first oven we will discuss is this model. This oven has a sleek design and a side-opening door that makes it easy to put food in and out. Its touch control panel is user-friendly and has a range of functions, including programmed baking and cooking. The two racks provide maximum cooking flexibility and the oven control allows you to slowly cook your food at a preset temperature and an adjustable time. Also with an extra large interior, it can accommodate large dishes and pans, and give you the temperature you need for precise cooking.
If this sounds like something you love, you can check more details about it by clicking this link to be taken to the product page.
The second oven on our list is the one from Emeril Lagasse. This oven is known for its combination of durability, style, and functionality. Its side-opening door makes it easy to access the cooking cavity, saving you from the hassle of leaning over a hot, open door. This oven also includes dual cooking zones and a full menu of custom presets for different cooking functions, making it versatile enough to cook a variety of dishes.
With its dual cooking zone, you can cook 2 foods in 2 different ways with 2 temperature zones for each cooking. The custom settings in each zone let you cook your main dish and sides exactly how you want them. The most important thing about this oven is that it can carry a complete 25-QT family-sized meal and cook straight from the freezer frozen food to finished meals. You can't miss a bit with this one.
If this sounds like something you love, you can check more details about it by clicking this link to be taken to the product page.
Lastly, We have the Calphalon Performance. This oven brings a sleek design and advanced features to the table. It features a large capacity of design and different cooking modes, which include convection, broil, and baking. Its side-opening door is equipped with a smooth closing mechanism that makes opening and closing easy.
Additionally, the oven has a built-in temperature probe that measures internal temperatures accurately. Not to mention that it delivers 40% more even heat for superior cooking results and preheats faster. It has a removable crumb tray for easy cleanup and a built-in interior light to monitor food while it's cooking so you don't have to open the doors.
If this sounds like something you love, you can check more details about it by clicking this link to be taken to the product page.
Conclusion
Ovens with side-opening doors can be a great option for those who require a more accessible oven or who prefer the convenience of a side entry. With a diverse range of features, from steam cooking to convection heating, there are many models available on the market to meet various cooking needs. When considering purchasing a side-opening door oven, it is helpful to keep in mind the features that will be most beneficial and the budget that is available. Ultimately, investing in a high-quality side-opening oven can provide an easy-to-use and convenient cooking experience for years to come.